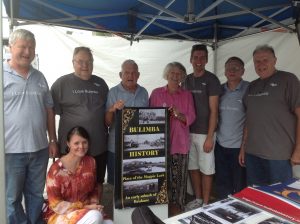 Our Bulimba District Historical Society sources, preserves and shares the history of Bulimba and beyond.
Proudly chaired by well-respected multi-generational local President Norm Love and represented by friendly, devoted and community-spirited individuals passionate about their vision.
Daytime and night-time meetings at the Bulimba Library, Oxford Street Bulimba. $25 individual Membership per year. New Members welcome. Please email: normanllove@hotmail.com
Oxford Street Bulimba's Bulimba Heritage Trail takes you on a walk through history to discover buildings and monuments that have shaped the local area. Information on air raid threats during World War II and details on the famous goannary are some of the highlights. Take a stroll up Oxford Street Bulimba and follow the heritage plaques up and down the street. The Bulimba Heritage Trail was delivered by the Brisbane City Council through the Bulimba Neighbourhood Plan Enhancement Program.
You can download the Bulimba Heritage Trail brochure at:
www.brisbane.qld.gov.au/sites/default/files/bulimba_heritage_trail_brochure.pdf